Residential Furnace Replacement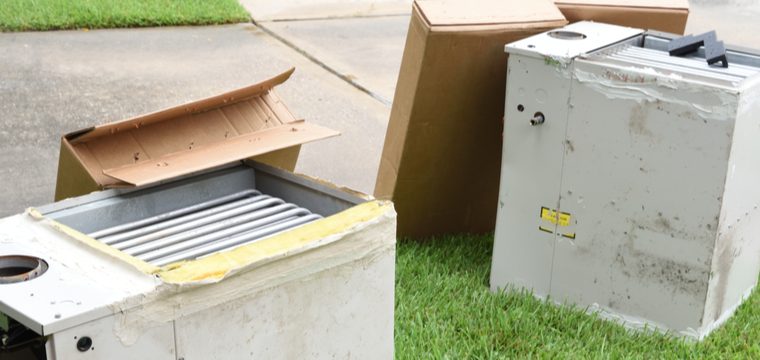 Service Overview

Armstrong sincerely hopes you have been practicing good HVAC maintenance on your furnace. Modern heating systems are a marvel of reliability when they are taken care of. But even then, the time will come when it's time to replace the old one with a new and more efficient model.
Repair or replace?
Many times, homeowners struggle to answer this question and it's completely understandable. A new heating system is a major investment so wanting to keep the old one for as long as possible is natural. That said, the time will arrive when it makes no sense to put any more money into repairs. Here are some common sense questions that can help you decide:
Have you had to repair your heating system in the last year?
Are your monthly heating bills getting more expensive?
Have you been told you will need or anticipate additional repairs in the near future?
If you answered yes to any of these questions, we urge you to call Armstrong to arrange a no-obligation estimate to replace your current furnace.
Key factors
There are some key factors to consider before making a final decision:
Age—A well maintained furnace should last 15-20 years. If your heating system is in that range, you need to think long and hard before investing a significant amount of money to fix it. If the furnace is ten or fewer years old, then repairs might make more sense.
Maintenance history—This goes hand-in-hand with age, but you must be honest with yourself.
Have the filters been changed regularly?
Was professional maintenance performed at least once a year?
If the honest answers are yes, then chances are good the furnace will last longer. If you answered no, then odds are more and more repairs will be needed as the heating system ages.
Efficiency—Many furnaces still in use have AFUE (Annual Fuel Utilization Efficiency) ratings of 70% or even less. A new high-efficiency furnace is 95% efficient. It's very common to cut energy costs as much as 30 percent when you install new equipment. Those savings should be an important factor when making the decision to repair or replace.
Why choose Armstrong?
Armstrong Plumbing, Air & Electric is a factory authorized Lennox dealer, so you are assured of getting top quality equipment at the best price. Additionally, proper installation is absolutely critical to the maximize efficiency and reliability of any new heating system. Armstrong offers a 100% customer satisfaction guarantee. Call now to make your appointment and Armstrong will help you decide if a furnace replacement is the right choice for you.
Who is more important than what
If you've decided it's time for a replacement please don't get distracted by brand names. Armstrong is very proud to be a factory authorized Lennox dealer because it's a quality company that stands behind the equipment. But here's something you may not know, different manufacturers use the EXACT same components in their furnaces. The difference is what happens after the new furnace is taken out of the box. Proper installation is the single MOST IMPORTANT factor in determining if your new furnace will keep your home comfortable and operate as efficiently as possible. Here are just a few factors to consider when deciding who to do business with:
Has the company been in business for at least 10 years?
Is it locally owned with accessible ownership?
Is the company licensed and bonded with the proper permits?
 Does the company carefully screen employees during and after hiring?
Are the technicians EPA and NATE certified?
Make the call. Choose Armstrong as your HVAC contractor not only because we sell Lennox equipment, but because of our 100% satisfaction guarantee when it comes to our installation and workmanship. Call now to make your appointment and our team members will help you decide if a furnace replacement is the right choice for you.